100 Life Lessons to Teach Kids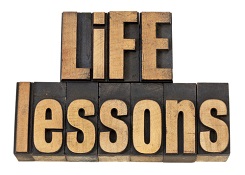 Before you send your kids off into the world on their own, there's a lot you probably want to teach them. In an effort to help you identify the important things your kids should learn, we've compiled a list of 100 life lessons to teach them, from learning to show others respect to being able to communicate effectively and everything in between.
Be Respectful
While showing others respect may not seem to be a lesson that many kids learn these days, there's still time to teach the younger generations how to be courteous and polite. However, we, as parents, have to take the first step toward making this a reality by teaching kids how to act appropriately. To make being respectful commonplace again, check out these 10 life lessons to teach your children.
How to Cook
When your child goes off to college he may be in a dorm where food is provided, or he may have an apartment where he will need to know how to cook. While eating out for every meal is certainly an option, it's also one that quickly gets expensive. Help your child learn to thrive on his own by teaching him these 10 cooking related life lessons.
Laundry Tips and Tricks
Unfortunately, doing laundry is a fact of life for most people. For this reason, it's important to teach your kids how to wash and dry their own clothes. Kids as young as two can put dirty clothes in the hamper, preschool aged kids can sort their clothes by color and older elementary school kids can start doing laundry. While there will be failures from time to time as they learn their way around the laundry room, failing is just a step in the learning process. Here are 10 life lessons related to laundry.
Housekeeping Skills
Mom isn't going to be around to pick up after the kids forever, so it's important that kids learn different housekeeping skills. All of these skills can be taught while the child is still at home by having him help you out around the house.
Money Matters
Knowing how to handle money can make a huge difference in how comfortable your child's life is. If your child never learns to save, he may end up struggling with debt his whole life. There are money managing tips that you can teach very young children, but if you've missed that window it's never too late to start. Take a look at these 10 money-related life lessons.
How to Self-Regulate Emotions
Most self-regulation of emotions happens in early childhood. Kids and teens can sometimes get overwhelmed with emotion and not know how to cope with it, resorting to anger to express how they're feeling. These 10 life lessons regarding handling your emotions can be vital to the happiness of your child.
Handling Stress
Stress is an unavoidable part of life and something that every person experiences. The key is to figure out how to cope with that stress. Do you let it take over your life and become more and more agitated?  Or do you have a way to cope with stress that allows you to use it for motivation? These 10 life lessons will help kids learn to deal with stress in a healthy way.
Interpersonal Communication
Learning to communicate well with others, both in work and in play, is a crucial life skill. There are different ways to communicate, and you can get ahead of the game by understanding how to communicate with different people. For example, at work you may find that some people like to communicate through e-mail and just want an outline or the results of a project, while others may want to meet face-to-face and hear about all the details. The sooner you can learn how people prefer to communicate the better off you'll be. Interpersonal conversation involves every part of you, from the way you are standing to the expression on your face to the tone of your voice. Apply these 10 life lessons to master the art of communication.
The Value of Hard Work
Teaching your child the value of hard work can be difficult. Many people start when the child is young by making him responsible for doing chores. But even if your child is a teenager, there are still ways to instill a good work ethic. Take a look at these 10 life lessons and see if you can teach some of them to your child.
Smart Habits to Have
Habits take time to develop, and the sooner you can help your kids develop smart habits the better off they will be. Some habits are part of general hygiene, like brushing teeth, while others are health related, like eating right and exercising. Some habits will just make life more enjoyable, like time management and keeping a clean house. Use these 10 life lessons to help your child develop smart habits.
← 100 Places to Take the Kids in Texas | How Nannies Can Teach Children About Feelings →