10 Special Skills to Look for in a Nanny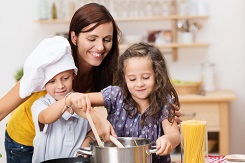 When embarking on a nanny search, you might feel like the Banks Children, hoping for a magical Mary Poppins to fulfill every longing or weak link you have in your own home. It makes sense that in lieu of your company, you'd want your children to have the best, and that's something that can certainly be accomplished (though you'll likely pay a pretty penny for it).
Here are 10 special skills to consider when hiring a new nanny:
Chef Nanny – You might run a tight ship when it comes to culinary matters, feeding your family only organic, finely prepared meals of the highest standard. Or perhaps your idea of kitchen skills might be having the eatery with the best tikka masala on speed dial. Either way, a nanny who can double as a chef might be high on your list of priorities. There's nothing wrong with having an expectation of high quality food prep for the person you choose to hire – even if it includes preparing an evening meal for the family – as long as that expectation is laid out during the interview and put into a nanny work agreement. You should also be willing to pay your nanny extra for this extra task and it's important to keep in mind that extra attention to creating a meal is bound to detract some amount of focus from childcare.
Newborn or Night Nanny – Newborns need a special level of vigilance and patience. Finding a nanny who specializes in this sort of care means they have experience in the minutiae of things to look out for regarding health matters and actually enjoy the rewards that stem from caring for these tiny people. Remember when hiring a Night Nanny that the usual wage laws must be followed regardless of the unusual hours they keep.
Artist Nanny – If your child loves art and your attempts at drawing a realistic face come out looking more like a stick figure, you may want to consider finding a nanny who can help further your child's art skills. Hiring a nanny with a natural love of the arts, or even a background in art, is a great way to let your child connect with someone who harbors a similar passion and will genuinely enjoy and seek out artistic activities for them to do together. In this spirit, you can also match your child's love of tech with a gadget-savvy nanny, etc.
Multiples Nanny – Multitasking and triage is a key talent of nannies who specialize in multiples. They have also learned the art of "fair" when dealing with numerous personalities, as well as how to manage group entertainment in order to complete their tasks.
Linguist Nanny – Learning a second language is invaluable and studies show the easiest time to learn another language is when kids are very young. Unfortunately, school budgets and new standards don't allow for the "luxury" of teaching languages early in the academic schedule. Seeking out a bilingual nanny in your preferred second language who has the skills to teach your child is a great way to bridge the gap.
Sports Nanny – Being athletic is not easily faked, so if your hand/eye coordination leaves something to be desired but your child comes alive whenever they are in within the vicinity of a ball, keep this in mind when interviewing. Ask if the nanny has ever played sports in school and note whether they show any enthusiasm at the idea. A halfhearted trip to the park to oversee a child play by himself is very different from an engaged caregiver who looks for opportunities to enthusiastically engage in sports and other physical activities.
Playdate Nanny – If your child's social life is being affected by being left behind in the current reciprocal playdate culture, discuss the possibility of the nanny overseeing a friend on occasion. Playing afterschool for a few hours is often the norm, since families tend to want their weekends together. Discuss in advance whether this would work – perhaps setting up a standing one-day-a-week afternoon – so the nanny can prepare.
Nanny for Special Needs – Understanding the unique needs of a child on the spectrum or who has special physical or emotional needs requires a higher level of experience and perhaps education. These nannies might be harder to secure since they may stay with families longer than a typical nanny to maintain a sense of stability. Consider this during the interview process to ensure your nanny will be available for the length of employment you are hoping for.
Musical Nanny – If you are tone deaf but have a future Mozart on your hands, or even if you just want to add the benefits of music to your child's life, consider a Maria von Trapp-type for your new hire. Music majors or those working toward a music education degree will likely have the basics to help out your young performer and will be more than happy to seek out free concerts and performances, or even just play "audience" without tiring.
Mixed Ages Nanny – A nanny who is great with toddlers might not be experienced in relating to tweens and their unique needs. Newborns are a different critter than curious preschool explorers. Take a special look at your nanny's background with similar age levels if you have a family with mixed age children to ensure she will have a handle on how to vary her expectations and engagement with all the kids so no one feels left out.
← 100 Tips for Gardening with Kids | From Struggles to Sweet Dreams: How to Stop the Bedtime Tantrums →