100 Tips for Gardening with Kids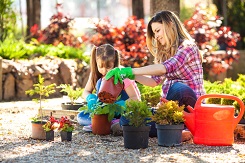 It's important for both kids and adults alike to spend ample time outside each day. One way to get some fresh air and exercise is to grow a garden with the kids. We've compiled 100 tips that will help you not only garden with your kids, but learn right along with them.
Fun Things to Plant
The trick to making gardening fun for kids is to find plants that are fun to grow and that grow quickly. These 10 plants are fast growers, so the kids won't have to wait long to reap the fruit of their labors.
Planning the Garden
Before you begin planting your garden you'll want to start planning it. Take the ideas found on these 10 blogs to kick off the planning process, then get to growing!
Steps to Get Started Inside
If you begin early enough, you may have time to start some seeds indoors and then move them outside as the weather warms and they begin to grow. Follow the suggestions in these 10 tips to start some seeds inside.
 Learn about Compost
Whether you are a new or experienced gardener, you need to understand the importance of compost in your garden. Master gardeners call compost 'gardener's gold' because of how helpful it is in gardening. Learn all about composting and how to do it by reading these 10 posts.
Planting Tips
You've bought your plants, you've prepared your garden or container and you are ready to plant. But before you start planting, you need to know the requirements for planting different plants. Check out these 10 blogs for different planting tips.
Tending a Garden
Planting is the first step to creating a garden, but the work doesn't stop there. You will need to actively tend to your garden to keep it alive and thriving. Use these 10 tips to tend your garden with the kids.
Container Gardening
If you don't have a big backyard with room for a garden, try your hand at container gardening instead. These 10 articles will explain how to choose the right items to put into a container, how to choose the right container for your plants and much more.
Companion Gardening
Companion gardening allows you to control bugs without the use of chemicals, can help plants thrive and can keep wildlife out of your garden. Read these 10 posts to learn more about which plants grow well together and which plants don't.
Good and Bad Bugs
Instead of using pesticides to keep harmful bugs out of your garden, consider planting things that attract the beneficial bugs. Peruse these 10 sites to find out which bugs are good and which ones are bad when it comes to gardening.
Tips for a Successful Gardening Experience
It can be challenging to garden with kids, there's no doubt about it. However, the benefits that the kids gain far outweigh the negatives. Read through these 10 tips for helpful suggestions to make the gardening experience a successful one.
← 100 Tips to Help Nannies Set Goals | 10 Special Skills to Look for in a Nanny →