Shared Space: How to Make a Shared Bedroom Arrangement Work for your Children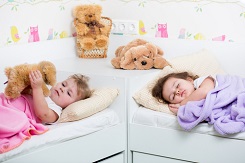 Although it may not be ideal to have children share a bedroom, many times, space demands the need for bunking them together.
It can be tricky when your children crave privacy or bicker back and forth, but with some creative decorating ideas and activities to keep them engaged and invested in the process, a shared space can work well for your little ones.
A Joint Effort
If it's time to move your children into a room together, it's important to keep both children engaged and involved in the decorating decisions, says Barbara Green, interior designer with Sensibly Chic Designs for Life. "Let them choose colors, design styles and patterns," she says. "I prefer to use the technique of 'color-blocking' when decorating a shared room, where each child's wall is a different color. That way, each child gets to incorporate their own selections into the rooms."
Establish boundaries within the room by personalizing each side of the bedroom with lettering, says Green. "Lettering is very popular now, so I would specify each child's name on their section of the room," she says. "I would use the other child's color as an accent color on his or her sibling's side and vice versa."
Your children may also want to choose a theme for the room's décor. From dinosaurs and cowboys to princesses and sports, the key to a successful shared room environment is to make sure the children come to a consensus on how it will be decorated.
Even though decorating may be a joint effort, to ensure privacy you will need to find ways to allow for privacy. The room can even be divided easily with a track installed in the ceiling so curtains can hang down – similar to those used in hospitals and doctor's offices. "The curtains can be drawn closed when the children each want their private time or kept open when they are feeling more social," says Green.
Prompting your children to socialize more with each other in a shared bedroom offers many benefits. "One of the problems in society today is that people are too isolated from each other – we retire to our own bedrooms, with our own TVs or we sit in a room full of people, all fixated on our smart phones, perhaps even with earbuds in," says Green. "If more kids had to share bedrooms, I think it would begin to increase the re-socialization of the human race and would help to improve interpersonal skills and overall personal life satisfaction. It all begins with baby steps, and children cohabitating could be the first step."
Space Solutions
Ensuring each child has enough space to play, complete homework and sleep in a shared room can be a challenge. Loft beds come in handy when space is tight, says Green. "Each child has what is basically a top bunk and then a living area below for a dresser, desk, chair or whatever furniture pieces are most important to each child," she says. "Personalization is key, so you do not want to offer a 'cookie cutter one-size-fits-all' solution for both kids simply because they have to share a room. Try and keep each side of the room personalized to each child as best you can."
Bunk beds also save floor space and can be arranged so children have personal space around them, accenting with children's nightlights to add a personal touch to each space.
If your children's closet is overflowing, opt for trundle or bunk beds with built in storage drawers, suggests Interior Designer Paige Hudgins. "Anything from toys to hand-me-down clothes can fit in these huge drawers," she says.
If space is tight, instead of two desks, Hudgins suggests a long table with two chairs side by side. "Use cubbies above the desk or table for storage and use a file cabinet on wheels under the desk," she says. "Standard closets can be converted into desk spaces, too."
In the end, it is important that each child feels the space allows for privacy and socialization as well as a décor that reflects their individual personalities and interests. When decorating a shared room, Deborah Lemery of Interior Edge Designs recommends considering the needs of each child and using complimentary color schemes and space saving techniques to bring the room together as a whole.
← 50 Ways You Can Connect with Your Employers as a Nanny | Must-Have Self-Help Books for the Busy Mom →