50 Ways to Help Children Learn Math in a Fun Way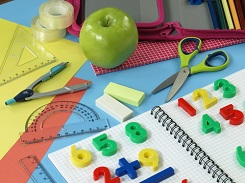 Math is a difficult subject to tackle for many children; however, it's a necessary one to learn. Because it's a subject where new concepts continually build on old ones, it's essential to find a way to help students who are struggling grasp each idea before moving onto the next. If you have a student who is having a hard time grasping different math concepts, these 50 articles and their various methods may be able to help – and your child may end up having some fun, too!
Songs
In the same way that the alphabet song has helped countless kids learn their letters, there are a plethora of math songs that can help kids learn their numbers and different math concepts. These 10 blogs have math songs your kids will love singing.
Outdoor Activities
Kinesthetic learners need to move around as they learn to learn effectively. Unsure of how to incorporate movement into math? These 10 articles show you how to get your kids actively involved in solving math problems.
Games
Playing games turns study time into fun time for kids. To spice up problem solving, use the ideas in these 10 entries; they're full of games your kids and their friends can play together.
Printables
Sometimes the best way to learn is by completing printable worksheets. Get your kids solving problems by printing out the sheets found on these 10 sites.
Online Games
If you're still struggling for ways to engage your kids in math, you may want to try out some of these online math games. Take a look at these 10 sites for different math games for your kids to play.
← The Best Things You Can Eat |