The Best Things You Can Eat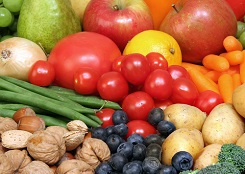 When in a rush, it's tempting and convenient to grab a sweet snack, sugar-filled packaged product or even a piece of candy in an attempt to tide you over until the next meal. However, these empty calories not only pack on the pounds, but also spike your blood sugar and rob you of much-needed energy to care for your little ones.
The best things you can eat may be just as convenient as those sweet and salty snacks, however, just without all the extra processing and preservatives.
Building Blocks to a Healthy Heart
According to Dr. Kriston Kent, a preventative medicine physician in Naples, Florida and owner of The Kent Center for Life, heart healthy foods play a key role in a well-balanced diet. "The goal, to have a healthy heart, starts with the best building blocks," she says. "These building blocks do in fact come from foods that provide the best nutrients to build and sustain a healthy heart."
According to Kent, the following heart-healthy foods can be incorporated into your diet – as snacks or meals:
Beans: All kinds and colors provide a large array of crucial vitamins, minerals and soluble fiber.
Nuts: All kinds of nuts are heart healthy, with different nuts providing specific complementary benefits.
Vegetables: A colorful array of vegetables provides incredibly powerful phytonutrients that constantly protect the heart. Vegetables that are particularly beneficial include leafy greens vegetables like spinach and Kale, bright orange vegetables like carrots and Sweet potatoes, and acorn squash, broccoli, asparagus, and red bell peppers.
Fruits: A wide variety of fruits also packs powerful phytonutrients for heart health. Great examples include: tomatoes, blueberries, cantaloupe, papaya, concord grapes and even red wine.
Salmon and flaxseed: Both provide important omega-3 fatty acids that are both anti-inflammatory and heart healthy. Flaxseed also provides fiber and phytonutrients.
Oatmeal: Provides critical vitamins, minerals and omega-3 fatty acids as well as soluble fiber.
Tea: Packed with more heart healthy phytonutrients, especially the green variety.
Dark chocolate: Powerful nutrients reside in dark chocolate. But beware, it should not be alkalinized and should contain at least 70% cocoa.
It is equally important to avoid other "building blocks" to maintain a strong and healthy heart, says Kent. "Most notably, avoid processed foods and foods with animal fat," she says. "The foods promote inflammation and atherosclerosis, which destroys the heart from the inside out."
Controlling Your Appetite
Appetite control is often one of the biggest challenges when choosing the best things to eat. "Many people struggle with sticking to a healthy diet because they lack the accountability and support system that can help them avoid making unhealthy choices," says Ray Wu, a physician and founder of Weilos, a weight loss app based in Los Angeles. "While weight loss and obesity are all over in the mainstream media, they are topics with social stigma that are difficult to talk about with family and friends."
Incorporating the help of a weight loss app can offer you the discretion and support you need to choose healthier food options. "With Weilos, our mission is to create a safe environment for like-minded people to support, motivate and inspire each other to reach their weight loss goals," says Wu. "We've found that regularly posting healthy updates and especially progress photos are extremely effective to motivate yourself with active users losing one to two pounds per week."
Knowing the foods that don't do anything for appetite control can also help sway you from picking up that sweet or salty snack. "Foods known as simple carbohydrates are the worst for appetite control because they are relatively high in calories, but do not keep you full for long," says Wu. "These include foods such as sugary drinks, candy and other junk food, white bread, pasta, and white rice. All of these foods are broken down quickly by your body, which in turn raises blood sugar quickly."
In addition to expanding your waistline, an over consumption of simple carbohydrates can also lead to diabetes and other cardiovascular problems, says Wu. "Heart healthy foods contain high levels of vitamins and other compounds that studies have shown can prevent heart disease," he says. "These include antioxidants such as vitamins A, C and K, as well as omega 3 fatty acids that can increase good cholesterol. Across the board, heart healthy foods are high in fiber, which keeps you full longer to avoid sugary and fatty foods."
← From Struggles to Sweet Dreams: How to Stop the Bedtime Tantrums | 50 Ways to Help Children Learn Math in a Fun Way →