100 Tips to Help Nannies Set Goals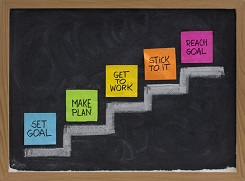 In every career, having goals is an important part of growing and thriving. As a nanny, whether you're a career nanny or are only nannying part-time, setting goals is of the utmost importance. From small goals to big goals, short term ones to long term, we've compiled a list of websites that will help you achieve all of the goals you set, and maybe even some you didn't!
Why Should You Set Goals?
Setting goals is the first step to turning your dreams into reality. It's becomes harder to move forward as a nanny without goals because you haven't defined what it is you want to accomplish throughout your career. For more reasons why you should set goals, turn to these 10 sites.
Setting Long-Term Goals
Long-term goals are the things you want to achieve a year, five years or even 10 years down the road. When brainstorming your long-term goals, focus on your big dreams and determine which ones you want to pursue. While it's okay to have multiple long-term goals, you always want to make sure you don't have so many that the prospect of achieving them becomes overwhelming. For tips on setting long-term goals, check out these 10 posts.
Breaking Down Your Broad Goals
Once you've set your long-term goals, it's essential that you then break them down into smaller goals. These short-term goals make achieving your long-term goals much more feasible. They also allow you to celebrate mini-successes as you work towards your long-term goals and keep you motivated. Read more about breaking down long-term goals in these 10 articles.
Learn How to Set Incremental Goals
Incremental goals can be the same as short-term goals, or they can be different. These types of goals define the next step you need to take to reach your long-term goal. If you can step closer and closer to your short-term goals, you are able to celebrate success sooner. These 10 sites explain more about incremental goals.
Make a Plan
Every day you should do something that takes you a step closer to your long-term goal. Make a plan to reach your goals and then define what you can be doing daily or weekly to achieve them. The following 10 articles will help you make a plan to achieve your goals.
Stay Motivated
Over time, it can be hard to keep plugging away at a goal, so it's important to find a way to be excited about your goal every day. You can do this by creating a vision board that you can look at each morning. Know why you want to achieve your goal and keep that in mind as you go about your daily life. Share your goals with other people and let them help you stay motivated. These 10 posts will help you figure out what will keep you motivated as you work towards your goals.
Track Your Progress
You will encounter periods of time where you feel like you aren't making any headway towards reaching your goals, despite the effort you're putting in to do so. Keeping track of your progress will help you avoid feeling like you haven't achieved anything. These 10 sites list ways you can track your accomplishments so that you stay motivated.
Get Help
You don't have to work at achieving your goals alone. In fact, having a support system in place can make all the difference when it comes to achieving them. Read these 10 blogs for tips on getting help with your goals.
Know that Setbacks are Normal
You should always plan for setbacks when setting goals. Doing so will help you be prepared should something happen. After all, it is highly unlikely that your entire goal journey will be without setback. Read these 10 posts to help prepare for any setbacks you may face.
Reward Your Accomplishments
Rewarding your accomplishments, both big and small, is an important part of staying motivated. Determine your rewards ahead of time, that way you have something to look forward to when times get tough. These 10 posts will help you determine how to reward your accomplishments. Dangle a carrot for yourself and you may just reach your goals!
← The Fit Factor: How to Keep the Family in Shape | 100 Tips for Gardening with Kids →