The Fit Factor: How to Keep the Family in Shape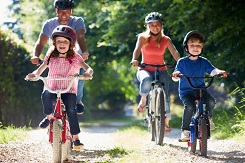 When your schedule is packed with homework, music lessons, housework and work responsibilities, it's not unusual for exercise to be the first thing that falls to the wayside. After all, who has time to work out or go to the gym when caring for children and maintaining a household?
Making fitness a priority for the family, though, can brighten your mood and give you the motivation to live a healthier lifestyle, while simultaneously boosting your energy so you can keep up with the little ones you love the most.
A Simple Start
Contrary to popular belief, you do not have to spend hours in the gym to stay fit. In fact, it is possible to lose weight and keep your muscles strong with something as simple as proper breathing techniques. "Because most of us breathe high in the chest – both a habitual and stress response – this causes hormones such as cortisol, which break down our muscles and use sugar as a fuel," says Marc Lebert with the DailyHiit.com.
"Proper breathing, deep in the belly, creates a hormonal environment that burns fat as a fuel and keeps muscle, which keeps your metabolism," says Lebert. "Besides, it just feels better."
Strength training is also a healthy way to get your family fit. "Strength training takes only minutes, and you can get an amazing leg workout in less than four minutes," says Lebert. Try jump squats for one minute straight and see how quickly the results will show within your physique. "Done right, you will be breathing hard and the legs will be on fire," he says.
Working the legs is also a much more effective strength training exercise than crunches to get your abs in shape, says Lebert. "If you want great abs, work the legs. Because most people, when they say they want to see their abs, what they really need to do is lower their body fat levels, which comes from hard leg training – not crunches," he says. "Crunches and other ab exercises will strengthen the abdominal muscles, but will do little to burn the fat over the top of them. It's far better to work the legs hard."
Incorporate the Family
Exercise and fitness do not have to be reserved for adults. Get the entire family involved by creating exercises and active games that include the kiddos. Jennifer McCamish, owner of Dancers Shape, a Pilates-based barre fitness studio in Austin, Texas, recommends choosing power packed moves, such as planks, brides and lunges to get moving with your children.
"Create a fun and silly game you two play for 20 minutes together," suggests McCamish. "For example, play mom is a big crazy monster by using your lunges to chase your little one around the house," she says. "The princess has to escape by crawling under the bridge x amount of times – otherwise known as mom's plank or Pilates bridge she is holding while the little one crawls through."
Making exercise a game will help your children see the fun in getting fit. "Your toddler will love it because at that age, they can't get enough of repetition and make believe," says McCamish. "Plus, you will get a great workout in and get the added bonus of spending quality time bonding with your child."
Turning household chores into fitness fun gets the entire family involved, too. "Kids love to be timed, so try setting a timer to see how quickly, yet efficiently, chores can get done," says Jessica Matthews, exercise physiologist with the American Council on Exercise. "It's a fun way for you and your kids to race against the clock as you take care of the housework while breaking a sweat in the process."
Add exercise to the daily routines as a way to stay fit, recommends Matthews. "From doing lunges while vacuuming and mopping to performing squats and calf raises while dusting, there are lots of ways to burn extra calories while cleaning up the house," she says. "You can also throw on some upbeat music for you and the kids to groove to while tidying up."
← 100 Summer Activities to do with the Kids | 100 Tips to Help Nannies Set Goals →