Healthy Snacks in a Flash: Convenient Treats Under 100 Calories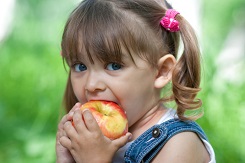 When you need a little pick me up for yourself or the children you care for, resist the urge to reach for something sugary or full of saturated fat. Even though consuming some sugar may satisfy your sweet tooth and give you a small burst of energy, the results can lead to a spike and then drop in your blood sugar and a lethargic afternoon.
Luckily, there are snack alternatives that can satisfy your cravings and keep you alert and energized. With these suggestions, you can keep your calorie consumption in check and the entire family's health in great shape.
Apples
If you can't manage an entire apple to snack on for the day, at least one half of a red apple will still keep the doctor away, says Dr. Robert DeMaria, a globally renowned natural health physician.
"Red apples are great for digestion, promoting liver function and an ample source of antioxidants, minerals and fiber," says DeMaria. "If individuals suffer from high LDL cholesterol, the pectin found in the fruit can decrease the number while reducing the risk of arteries hardening, heart attacks and strokes."
Beets
Try this tasty treat to satisfy your mid-day hunger. "Just one-third cup of beets everyday can lower cholesterol by 40% with calories almost too low to account for," says DeMaria. A one-half cup of beets only boasts 37 calories.
"Beets are also a great source of Vitamin C, potassium and iron with cancer-fighting antioxidant beta-carotenes and fiber," says DeMaria.
Carrots
For a crunchy snack to get you through the day, prepare a plate of chopped carrots for you and the kids. "The excellent source of antioxidant agents will protect against cancer and cardiovascular disease, improve skin and vision while fighting lung and pancreas cancer," says DeMaria. "Carrots really have benefits too good to pass up, as they also reduce blood cholesterol level, relieve constipation and other colon disorders while boosting immune systems."
Carrots are also a solid source of eye candy, known for aiding vision.
Cheese and Veggies
What kid doesn't enjoy peeling apart a strand of string cheese? Instead of playing with their food, your children will likely devour this tasty snack that has less than 100 calories. When a craving kicks in, snack on a smorgasbord of string cheese and cherry tomatoes. According to Allie Tabish, registered dietitian with the Western Dairy Association, one string cheese not only provides a serving of dairy, but also important vitamins and minerals, eight grams of protein and only 40 calories.
"Top two or three low-sodium crackers with cheese and cherry tomatoes for a healthy snack that includes three food groups," says Tabish.
Fun Veggie Dips
Not all dips are no-nos when it comes to maintaining a healthy lifestyle. According to Tabish, a cucumber veggie dip that combines diced cucumbers, low fat plain yogurt, mint and a pinch of salt and pepper only has 100 calories.
"Dip fiber and vitamin rich vegetables, sliced bell peppers, broccoli, carrots or a few crackers into this cucumber dip for a healthy snack," she says. "Low fat plain yogurt is a perfect base, providing essential nutrients including calcium needed for strong bones and teeth for all ages."
Fruit Smoothies
Want to satisfy your sweet tooth in a flash? Break out the blender and whip up a fruit smoothie for a snack. Simply blend fruit, low-fat yogurt and ice for an afternoon delight.
"Blending one cup of fresh or frozen fruit to a half cup yogurt provides natural energy for less than 100 calories," says Tabish. "Try a berry smoothie for added antioxidants."
Muffin Bites
Reducing your serving size of your favorite dishes can help put healthy snacks in your mouth without increasing your daily calorie intake. "Preparing mini-meals in muffin tins is an easy way to plan for snacking all week," says Tabish. "Make a batch of Greek pizza muffins or mini-quiches with white Swiss cheese."
Including multiple food groups, such as grain, fruit, vegetable, protein and dairy in each recipe helps to include more nutrients in a snack that fills you up and is easy to pack, says Tabish.
Yogurt Mini-Bowls
For a sweet treat with less than 100 calories, combine one-third cup blueberries with one-fourth cup plain Greek yogurt. "Blueberries are high in antioxidants called anthocyanins, and low on the glycemic index scale, which means they don't mess with your blood sugar regulation," says Danielle Hart, holistic nutrition consultant and the editor in chief of ENJI Daily, a wellness magazine.
"Greek yogurt offers protein and, assuming you choose one with live cultures, a little bit of probiotics," says Hart.
← Date Night on a Dime | 50 Ways You Can Connect with Your Employers as a Nanny →