100 Summer Activities to do with the Kids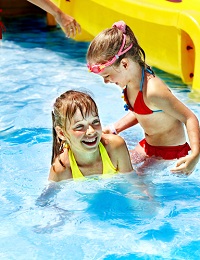 Summer may be highly anticipated by kids, but it's not unusual to hear cries of boredom within a few weeks of being home. To avoid bored kids with nothing to do, check out these 100 summer activities. They'll keep your kids busy and entertained all summer long!
Free Activities to Take the Kids To
Take advantage of long summer days by packing them with plenty of fun, free activities. The 10 ideas below are just some of the many things you can do for free with the kids this summer.
Water Fun
To beat the heat this summer, you'll need lots of fun water activities planned. Look through these 10 articles for some fun ideas that will keep the kids cool and entertained.
Science Experiments
Who doesn't like a fascinating science experiment? Check out these 10 posts for some fun science projects the kids can do this summer; they'll be having so much fun they won't even realize they're learning something too!
Service Projects
Teaching your kids to give back is an important lesson. Make serving others fun for the kids by using one of the 10 ideas on these posts.
Paper Crafting
It's always a good idea to have some craft ideas handy for rainy days or days when you just want to spend some time indoors to beat the heat. Try out these 10 paper projects on days you're indoors.
Recycled Art Projects
When it comes to getting creative, there's no need to spend a bunch of money. Instead, find ways to recycle items into new creations. These 10 art projects take yesterday's trash and turn it into today's treasure.
Summer Camps
From soccer to photography, there's a camp out there to fit every interest. Check out these 10 different camp ideas for the kids this summer.
Cooking with Kids
Learning to cook is a life skill that all kids need, and these 10 posts include simple, tasty recipes and directions that will help kids learn to cook for themselves and their family.
Get Active
You'll have no problem keeping the kids active with these 10 ideas!
Music Fun
This summer, crank up the tunes! Music can make just about anything more entertaining and helps kids in language development, spatial-temporal skills and can even improve a child's IQ, according to PBS. Take a look at these 10 ways to incorporate music into your child's summer.
← Storage Solutions: Organization Tips for the Toy Overload | The Fit Factor: How to Keep the Family in Shape →