Resources at Houston Libraries for Parents and Nannies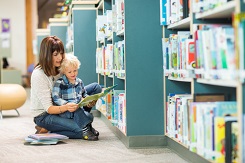 There's no need to succumb to high priced activity centers when you need to entertain the kids. Instead, bring them to one of Houston's Public Libraries to expand their love of reading (and expand your bag of tricks for what to do on an inclement day!). Far more than just a few shelves of books to borrow, today's libraries offer interactive programs, tech-fun for little ones and opportunities to connect with other parents and caregivers.
Here are a few can't miss ideas of how to borrow a little free entertainment at the library:
Tumble Book Library
Tumble Book Library is the Houston Public Library's eBook resource. Their home page leads kids with reading devices or who want to read online to their favorite books based on book type, videos, language lessons, puzzles and games.
Stretch Your Imagination
You might not think 'library' when you think Yoga, but your local branch could be a great place to get your ohm on. Some locations offer Baby, Toddler and Family yoga classes that caregivers can attend with their charges.
Get Your Gamer
The library can be a haven for kids who have slipped out of their 'reading' phase. Afterschool and weekend game sessions  offer kids a chance to play both board games and video games, Lego "Block Parties", Wii, PlayStation and X-Box. Kids of all ages are encouraged to attend. This can be a great way to motivate older siblings to head to the library while you pick up a few things or bring the little one to story time.
Unique Presentations and Performances
Offering more than just circle story time, the Houston Public Library System also brings in outside performance groups and entertainers to delight young visitors. Visits with Santa and His Reindeer, Short Plays and Musicals, Multicultural Story Times (with games, arts and crafts themed to foreign countries), Bring Your Teddy &PJs Bedtime Story Time and more can be found on the Events Calendar.
A Fine Exhibit of Childhood Development Resources
Located within the Children's Museum of Houston, the Parent Resource Library is the first of its kind in the country. They have resources on everything from discipline to ADHD, learning disabilities to asthma, all on waist-high shelves and up. The lower shelves house kids educational toys, books and imagination starters. This center welcomes kids to lounge and play while their caregivers get the lowdown on how best to address their developing needs. Materials are available in both English and Spanish and the resources are available for check out to all Power Card holders (Houston Public Library's new library card) from Harris County or any of the five contiguous counties.  The library is even open late on Thursdays for those taking advantage of the museum's 5-8pm Thursday Free Family Night.
Many of Houston's Public Libraries are home to educational, fun and affordable (oftentimes even free!) child-centered programming. While each branch has its own events calendar, here are some of the offerings you'll find at branches around the city:
6 months to Four Years
Baby Time: An interactive story time featuring books, songs and fingerplays with playtime afterward. Depending on the branch, there are sessions for babies from six to 18 months and sessions for infants to 12 months who are not yet walking.
Preschooler Story Time: This features stories and songs for children ages 3-5 years old and their caregivers. Parents or caregivers must accompany the child.
Tune Time: Listen to music and sing songs with other kids at the library during Tune Time. You can choose from the toddler session for children ages 18 months-3 years, or preschool sessions for children ages 3-5 years.
Five and Up
Tune Time: Listen to music and sing songs with other kids at the library who are in the 5-8 age range.
Story Time: Bring kids to listen to a story, with reading advice for children and parents. There are sessions for kids ages 5-8 and 8-12.
Family Story Time: This session offers stories, songs, fingerplays, and activities for Moms, Dads, caregivers and children of all ages. Caregivers are encouraged to fully participate with their charges for the optimum benefit.
Bilingual Programs for Kids
Bilingual Playgroup: A multi-sensory approach to early literacy using stories, songs and activities for babies, toddlers, preschoolers and their caretakers.
HOLA: Interactive story time for toddlers ages 3-5 and their parents.
Para los Niños: Parents are provided with books and activities to increase their ability to help their children learn. The program emphasizes the development of motor skills and early literacy through story time, games and activities for young children. This group caters to kids ages 4-8.
Big fun doesn't always require a big budget. Be a frequent visitor at your local Houston library for fun-filled edutainment! Just be sure to check out the website for local library hours and event times.
← Tips for Working During Pregnancy | What to Do if You Think Your Child Has ADHD →