Storage Solutions: Organization Tips for the Toy Overload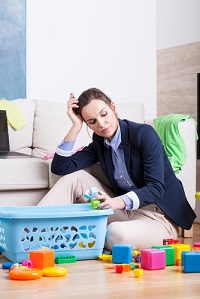 Toy overload is a common occurrence in a household full of little ones. From Legos and tiny figurines to large stuffed animals and games, it can be a challenge to keep a home tidy when there are toys overflowing into every room.
Although it may be a good idea to de-clutter a bit and sort out the toys your children no longer play with, you can also invest in some storage solutions for the must-have items.
A Home for Stuffed Animals
Even though your children may claim to "need" every single Build-a-Bear and stuffed toy that clutters the floor and bed of their bedrooms, it's unlikely all of those stuffed animals actually need to be left out. Instead, get creative by storing stuffed toys close by but out of sight. Janet Bernstein, owner of Organizers, LLC in Philadelphia, suggests a stuffed animal bean bag chair.
"Purchase a large zippable bean bag without the beans and store a huge number of stuffed animals inside," she says. "This option gives easy accessibility for kids who still frequently like to play with their collection."
If your children prefer to keep their stuffed animals in sight but not necessarily within reach, a hanging toy organizer, such as a small hammock that hangs in the top corner of their room, may be an option. "This option is perfect for kids who still want to keep their toys visible but don't necessarily play with them constantly," says Bernstein.
A canvas shoe holder that hangs on the back of a bedroom or closet door also allows you to utilize all available space and keeps those tiny stuffed toys off the floor. "This option gets them off the floor and each animal gets their own pouch," says Bernstein.
Stuffed animals can also be used as functional décor in your child's bedroom. Bernstein recommends using your child's favorite stuffed toys as book ends. "Purchase small weights and discretely (when your child isn't looking) open up several of the toys, insert the weights into their limbs and sew the animals back up," she says. "The toy becomes both versatile and aesthetic."
Family Space Storage Options
In an ideal world, your child would keep all of her toys in her room or a designated playroom, but as the nanny or parent, you know all too well that this is not realistic. Children drag toys from one room to the next – from a comfort blanket to their favorite doll. In family spaces, multiuse storage pieces are handy for camouflaging toys, says Krista Fabregas, founder of SmartLiving Companies.
"Accent pieces are generally a good choice because they can be situated in corners and other out of the way areas of a family room," she says. "Plus, they can be moved around by kids and as needs change."
Fabregas recommends these great pieces to use as family space storage for toys:
Cube size storage ottomans
Decorative stacking boxes, baskets and hat boxes to store mid-sized toys and smaller toys such as dolls or action figures
Medium to small decorative trunks, single or 1-2 stacked
When using accent pieces as storage, Fabregas warns that removable lids are a safer choice than attached lids. "If parents are using a trunk or storage ottoman with a large heavy lid, they can install a dampener to prevent pinched fingers from the lid slamming," she says.
Outdoor Toy Storage
From plastic toy rakes to mountain bikes, your child's prized possessions are not always toys that are kept inside. As the seasons change, it's likely that toys will begin to spill into your garage and lawn.
To keep the garage and yard tidy, consider crafting toy storage solutions that will encourage your child to clean up as well. As an interior designer and father of three, Kenneth Walter has found that inexpensive, adjustable metal shelves can be an invaluable storage solution in a garage or outdoor area. "They work for almost anything. Certain toys are best put on the shelf itself, such as larger toys, board games, books or art supplies," he says. "Other things, such as small parts and Barbie pieces, can be put in clear containers with or without covers and stacked on the shelf."
Instead of parking those bulky bikes in the driveway or letting them take up space on the floor of the garage, Walter recommends hanging mechanisms that can be placed high or low. "Obviously little ones need their bikes hung low or left on the garage floor until they are big and strong enough to do it themselves," he says. "It's always best to store 'like' things together, such as bike things (air pumps, tools); sports things (balls, bats, spikes, riding gear); and swimming stuff (goggles, fins and boards)."
← Appetizing Appetites: How to Keep Cravings Under Control | 100 Summer Activities to do with the Kids →