Date Night on a Dime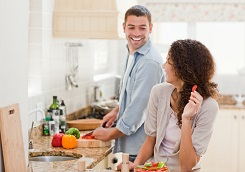 After a full day of caring for children as a nanny or working in the corporate world and tending to your kids' needs when you return home, a night out with your significant other may be just what you need.
Date night doesn't have to be an expensive endeavor, though. There are many options to rekindle your passion, re-connect with your loved one and spend some quality time together without breaking the bank.
The Importance of Date Nights
Whether you are a busy working parent who is also juggling household responsibilities and children or a nanny working with little ones by day and attending classes or studying by night, it is easy to lose sight of the connection you have with your significant other when you are overwhelmed with responsibilities.
Not only do you deserve a break, but the two of you need a chance to connect and enjoy each other's company – away from the pressures and demands of everyday life.
According to Dr. John Grohl, psychotherapist and founder of PsychCentral, many couples fall into what is known as the "relationship routine" when responsibilities and obligations take priority. "Once a relationship has been established and you're past the 'falling in love' stage, most people move fairly quickly into the routine stage," he says. "Before you know it, one year turns to four, and you've spent a good part of your life with someone without ever really considering many core issues, such as compatibility, personality match, temperament, family background, sense of humor, income (or income potential), life goals, etc."
One surefire way to kick the routine and get to know the core issues you both care about is to get creative with regular date nights, or – even better – date nights on a dime.
Date Night Ideas
It may seem like a stretch to splurge on date nights with your loved one when you're keeping an eye on your wallet; however, dating each other again does not have to create a financial hardship.
Just as you may clip coupons or sign up for online discounts, scout the web for date night freebies. From movie theater tickets to buy one get one free dinner entrees at your favorite restaurants, you can save money while enjoying some quality time with your honey.
Try surprising your significant other with romantic and fun journeys, such as:
Learning to Dance: You don't have to pay hundreds of dollars for private dance lessons. Just jump in, literally, and hit the latest club to show off your dance moves. If your partner doesn't know how to dance, utilize the dance floor to learn from others. The best part is that you will be learning together.
Getting Pumped Up: If you and your spouse or partner have trouble finding time to squeeze in workouts and time together, why not combine the two? Plan a date night at the gym and spot each other while lifting weights, run alongside one another on the treadmills and catch up on each other's week while cycling side by side on stationary bikes.
Taking in a Show: A night at the theatre doesn't have to break the bank. Check out your community centers and local high schools and colleges for upcoming plays and musicals. These venues are often free or much more affordable compared to the Opera House.
Going to the Fair: There is nothing more romantic than a kiss at the top of the Ferris Wheel. Recreate tender moments by taking in a city or county fair. Without the kids in tow, you won't have to fork over your wallet for an unending amount of tickets and rides. You and your loved one can simply wander around, take in the scenery, grab a bite to eat and splurge on a ride of your choice together.
Making a Meal Together: Spruce up a perfect date night at home by combining your culinary talents and whipping up a meal together. Working side by side will give you the opportunity to engage with one another, feed each other samples as you cook and even wash the dishes together – a true partnership at work.
Taking a Road Trip: You don't have to travel thousands of miles to find something interesting to do together. Take a mini road trip to the next city or a scenic spot in your area. The drive alone will give the two of you a chance to hold hands and converse. Or, if you're inspired by music, turn on your favorite tunes for an impromptu sing along.
Regardless of the destination, just remember that a date night doesn't have to break the bank or cause unnecessary stress for the two of you. Keep it simple and enjoy the savings and the company of your significant other.
← How Nannies Can Teach Children About Feelings | Healthy Snacks in a Flash: Convenient Treats Under 100 Calories →