10 Things You Learn from Networking with Other Local Nannies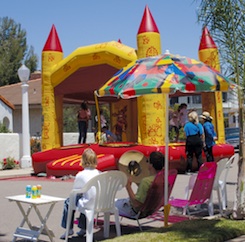 As a nanny, you probably spend the majority of your day surrounded by children. Unlike your counterparts in other industries, you won't spend time hovering around a water cooler or in board meetings. That doesn't mean, however, that networking is any less important to your professional development than it is to that of a busy executive. Networking with other nannies, both on a local level and internationally through the global village of the Internet, can be an incredibly informative exercise. These 10 lessons are just a few of the things you'll learn when you get out and talk to others within your industry.
Regional Salary Standards – When you're new to the area or just entering the private childcare job market, it can be difficult to determine the local standard when it comes to compensation packages and salary. Establishing a relationship with other nannies in your area can give you an idea of whether or not you're being paid fairly or asking for a reasonable amount.
The Scoop On Employers – Other nannies in your area can give you valuable advice when it comes to handling issues with your employers and navigating the often complicated social dynamic of running someone else's household. While you should never bash or badmouth your employers to other nannies, as long as you maintain a level of respect for your employers' privacy, there's no reason why you can't get advice for dealing with tricky situations from others that have been in your position.
The Importance of a Professional Support System – Working as a private childcare provider can be an intensely rewarding experience, but it can also be both physically and emotionally draining. Because you're isolated from your industry peers for the bulk of your hours on the clock, it's important to establish a networking and support system that allows you to interact with your equals.
Fun Activities and Outing Ideas – Even the most creative nanny will eventually run out of ideas for activities and outings. That's where networking with other childcare providers can come in handy. Sharing advice and bouncing ideas off of one another allows you to collectively come up with exciting and unique new ideas, things that you may not have considered on your own.
The Ins and Outs of Tax Compliance – Confusion regarding tax compliance isn't just restricted to rookie nannies. The IRS estimates that the majority of nannies and their employers are not tax compliant, which means that an established and experienced nanny may not have a clear idea of how tax compliance actually works. Networking with other nannies to discuss the implications of tax non-compliance and how to reverse the situation can make it much less difficult to understand.
How to Develop a Niche – In a tight job market, more and more nannies are looking for ways to set themselves apart from the competition. That's where niche nannies and those with an area of specialization come in, and that sector of the industry is growing. Networking presents nannies who would like to develop a niche but aren't sure how to proceed with a great opportunity to pick the brains of those who have successfully made the transition to specialization.
Potential Job Openings – If you're not working with a placement agency or combing the local classified ads, you may find yourself struggling to find prospective employers. An established network of childcare providers in your area can give you a heads-up regarding local openings.
Disciplinary Techniques and Child Management Advice – Developing your own disciplinary philosophies and ensuring that you keep them in line with those of your employer is an essential part of your success as a nanny, but that doesn't mean that you can't seek advice about managing a particularly difficult child or more effective disciplinary techniques.
Continuing Education Opportunities – Childcare is an ever-evolving industry, which means that you'll need to maintain a policy of continuing your education. Opportunities to further your experience and education level are valuable ones that you could miss out on if you're not linked to the local childcare industries.
Professional Development Techniques – Professional development is essential in any industry, and private childcare is no exception. When you're closely connected to the network of nannies both in your area and across the nation, you'll be able to stay abreast of developments within the industry as a whole.
Networking is an essential aspect of a nanny's professional development, but it's important that you keep things on a professional level. Though your local network of local childcare providers can be a support system, you should never badmouth an employer to your fellow nannies or disclose personal information. Not only is this important from an ethical standpoint, it can also cause very real problems should word of your distaste get back to those employers.
← Is It Smart to Hire My Mom to Care for My Kids? | Raising Kids to Be Good Stewards of the Environment →