Top 10 Reasons For Busy Moms to Hire a Sitter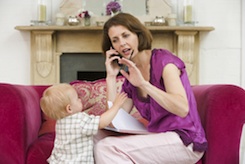 Long gone are the days where family is the exclusive babysitting resource for young families. Today's families live further apart and have their own obligations that prevent them from providing childcare to family members.
But just because family members aren't available to provide that care doesn't mean that moms no longer need it. Here are 10 reasons why many moms need to employ the services of a babysitter.
So you can take time for you! If you don't take care of yourself, you won't have the energy and strength needed to take care of the others who need you most. Whether it's so you can meet up with a friend at a coffee shop or browse the book aisles at your local book store, hire a sitter so you can set aside time for you.
To get stuff done. Organizing closets, painting the hallway and cleaning up the yard become much bigger projects with the kids underfoot.  Hire a sitter to come to your house and care for the kids so you can get stuff done.
So you can run errands in peace. Ever try to meet with the tax man with toddler in tow? Or try on a dress for the seamstress so she can adjust the hem? These errands are a whole lot easier to do sans kids, and the kids will surely appreciate not having to tag along.
Date night! Investing in your marriage is essential. Set aside time at least once per month to do something fun with your significant other. Whether it's heading to the park for a picnic or going out to your favorite restaurant where kids aren't really allowed, hire a sitter and take time to do something for just the two of you.
To have an extra set of hands. Would you love to have some extra help between the time the kids come home from school and go to bed? Or how about when you're heading on an outing, like to the zoo?  Hiring a sitter can often make your time together more productive and enjoyable too.
So you can attend social functions. Weddings, bar mitzvahs, baby showers, retirement parties, anniversary parties, birthday parties. The list of social functions you're likely to get invited to is endless.  Don't say no because you have no one to care for the kids. Instead, hire a sitter to meet your childcare needs.
Girl's night out. All moms appreciate getting out with the girls, but when dad ends up working late or there is a scheduling conflict and you're left without care, it may seem like your only choice is to cancel. But you don't have to. Hire a sitter to care for the kids while you spend a few much needed hours with the girls. 
To catch up on work. When you've fallen behind it can feel like you'll never catch up. Set aside a block of time to catch up on work in the evening or on the weekend and hire a sitter to care for the kids. They'll have fun and you'll get your work done.
So you can get to the salon. Sometimes there's never a convenient time to get your hair cut and colored. Trying to fit in hair appointments can be a real challenge. Hire a sitter to ensure you're not left rescheduling at the last minute.
So you can attend school meetings. Some school events like parent teacher conferences don't allow children. This forces many parents to secure childcare so that they can attend. Hiring a sitter allows both parents to attend and ensures the children have fun while they're gone. 
And while some high school students and neighborhood girls are still offering babysitting services, with school activities and homework, most parents are forced to contract for care with an older, qualified professional. These professional babysitters can be found by word-of-mouth, by using an online nanny and babysitting recruiting site or through a reputable local nanny placement agency.
← 10 Secrets to Building Your Child's Self-Esteem | Is It Smart to Hire My Mom to Care for My Kids? →