25 Blogs with Low Cost Date Night Ideas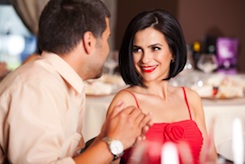 No matter how long you've been in a relationship with someone, it's important to continue to spend quality time together and to go out on dates together from time to time. While dinner and a movie is a date night staple, it doesn't allow much time for talking with one another and reconnecting. Instead, opt for date nights that allow you time to talk and laugh together. Plan dates that are worth getting excited about. For tons of ideas for inexpensive date night ideas, check out these 25 blog articles.
Going Cultural
Check the local newspaper to see what kinds of events are going on around town.  During the summer there may be free concerts in the park or inexpensive Shakespeare in the round performances. Or take a walk around the city to look at sculptures and different architectural styles.  Take a painting or pottery class. These five blog posts will help get the ball rolling for planning a cultural date night.
Grabbing a Bite
Save money by having a picnic on the beach and walking along the water.  No beach nearby? Choose an open field for the picnic instead.  Grab some cheese and a loaf of bread for a European style picnic. The options are endless! Check out these five blog entries for more ideas.
Date Night at Home
Plan a night at home where conversation and cuddling are the main focus of the evening. Leisurely cook something new together. Just relax and enjoy each other. For these and other tantalizing ideas, take a look at these five blog entries.
Getting Physical
There are many ways you can have an active date. Take a walk around a local pond or go on a hike for date night. Learn a new skill, like kayaking or archery while out on a date together. Go biking around town or check out a new bike trail. For these and other active date tips, take a look at the next five blog postings.
No Food Involved
There's no rule that says that a night out has to include food, and meals are often the most expensive part of a date.  Agree to eat before the date and then choose fun things that aren't related to eating. Get together with friends and play charades, or window shop in a nearby town.  Go "old school" and fly a kite or go roller skating.  These dates are perfect events to promote laughter and make some memories.  The most important thing is being together.
← Raising Kids to Be Good Stewards of the Environment | What to Include in a Summer Nanny Contract →