What to Include in a Summer Nanny Contract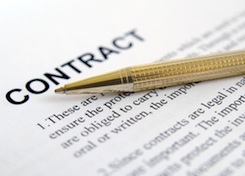 Hiring a summer nanny can be a great childcare option for parents with school aged children. There are lots of things that go into making a successful employment relationship including having a comprehensive contract. So what should be included in a summer nanny contract? Here's a rundown of things you want to make sure are in yours.
Start and end date. It's important that you know you have coverage during the whole summer. If your nanny is starting a week or two late because of a vacation or if she has to go back to college before your kids start school, knowing that when she's hired will give you plenty of time to find back up care.
Daily schedule and time off. Include your nanny's daily schedule and any planned changes to that schedule. If your child is going to spend two weeks in camp, your nanny may start late during that time. Or if your family's going on vacation, she may get that time off. Outlining the schedule in advance lets your nanny know exactly when she'll be working and when she'll have free time. That helps her plan out her summer trips and activities without interfering with work hours.
Pay and any benefits offered. Outline the regular and overtime hourly rate that your nanny will earn. Also include the details of any benefits you're offering like paid time off or a pool membership the nanny can use during her off time. If your nanny is a live-in, also include a short description of the nanny's living quarters and the food benefit offered.
Car use. There's a good bet that your nanny will need to drive your children during the summer months. She may need to drop them off or pick them up from camp or simply go to the pool for the afternoon. Before she starts, make sure you clarify which car the nanny will be using. If she's using her own car, detail how mileage will be handled. Also make sure that your nanny is carrying adequate car insurance for using her car for work purposes. If your children are still in car or booster seats, outline who will provide those and add a reminder that the nanny should use them each and every time.
Responsibilities and tasks. Your summer nanny isn't there to just provide child care. She can also help out with laundry, cooking, child related light housekeeping, errands and other things you might need. It's essential that you clearly outline your nanny's responsibilities in your nanny contract. Make sure that you detail what she's responsible for and any deadlines for getting things done. Remember she doesn't know how you like things so if you have any preferences, make sure to let her know what they are.
Household rules. It's important that your nanny knows what the kids are and aren't allowed to do. This is especially true with older kids who have more independence and choices about their day. Can your child play in the backyard by himself? Is he allowed to have friends over? Is he allowed to go visit friends by himself? Is there a limit on screen time? Your summer nanny wants to follow your household rules but is only able to do that when she has clear direction from you. This also avoids the "Mom lets me do it!" excuses that kids often throw out.
Safety issues. There are lots of safety hazards during summer time. It's always a good idea to review your expectations around these issues in your nanny contract. If you have a pool, include limitations around when it can be unlocked and clear instructions that your nanny is to never leave your child unattended. Don't forget to outline your rules for helmets when using bikes, skate boards, roller blades or scooters. Add any other issues that's you're particularly concerned about. These reminders can help keep your child safe and happy all summer long.
Household account. During the summer time, your nanny and kids may head out on field trips to the zoo, the water park or the science museum. Decide beforehand how you will handle these expenses with your nanny. Will you leave cash for her to use? Will you give her a credit card? Make sure you include any spending limits you have. It's also a good idea to ask your nanny to save the receipts from all expenses just to make sure the amount and reason for the expense is clear.
Your summer nanny contract is an important ingredient in having a successful relationship with your nanny. It doesn't take long to craft and makes a big difference.
← 25 Blogs with Low Cost Date Night Ideas | 10 Rules to Give Your First-Time Babysitter →