How to be a Great Temp Nanny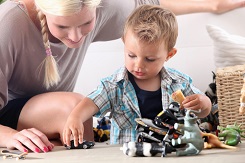 Most full-service nanny placement agencies now offer parents the option of helping them find a sitter to provide sick child care, hotel babysitting and temporary nanny services. In addition, online sites are filled with parents looking for babysitters and temporary nannies. For caregivers that are flexible and willing to take on new challenges, this can be a great additional source of income. Here are some tips for being a successful temp nanny.
Have a way to stay in touch with your agency or parents. Being available on short notice is a key component to being a temp nanny. Sometimes parents have lots of advance notice, but most times they need a temp because their child suddenly came down with a fever or their regular caregiver called in sick, so they need someone ASAP. The easiest way to stay connected is to have a smartphone where you can easily access texts and emails as well as calls. That way, however the agency or parent normally communicates, you'll be ready.
Give parents the information they need up front to be comfortable with you. If you're working with an agency, they will provide the parents with all the information they need. If you're working directly with parents, give them a portfolio with your resume, background check and reference letters. Knowing that you're a qualified and screened caregiver will help put them at ease and make them feel comfortable leaving their children with you.
Always collect the information you need about the child before the parent leaves. A parent hiring a temp nanny is often in a hurry. She's waiting for you to arrive so she can get to work, to school or wherever else she needs to be. No matter how much of a hurry she's in, make sure that you have complete information on the child before she leaves. Does he have any allergies? Is he on any medications? If he's sick, what have his symptoms been and what medications has he been given? Also, make sure you have complete emergency contact information. Of course you should always be able to immediately contact the parent if needed. You should also have the phone number of the pediatrician and the address of the nearest emergency room. Chances are you'll never need that information, but it's still important to have.
Have a bag full of tricks. There's nothing that puts a child at ease more than a nanny who comes with a bag full of coloring books, colors, puzzles, games and toys. Have a nanny bag that you keep stocked full of age appropriate toys and activities for the child you'll be caring for. It's fun for the child and it lets the parents know their child is in good hands. If you're a repeat caregiver, you'll find the child anxiously awaiting your arrival because she's excited to see what fun stuff you have in your bag for this visit.
Keep a log of your time with the child. Parents love to know what's happening with their child while they're gone. Record when, what and how much he ate, when he napped and for how long and the activities you did together. If the child is sick, record any symptoms and medicines you gave him. This is also the place where you can make any additional notes about things like delivers made or phone messages.
Brush up on your listening skills. Parents will be giving you a lot of information in a short amount of time. If you need to, make notes as you talk so you'll have accurate information to refer back to. Ask about the security system, the TV system, meal requirements, nap and bedtime routines, any special toys or loveys that the child can't do without, pets and other things that will make the time go by smoothly. You're not only in charge of the child, but also of the home. The more you know, the better you can do your job.
Don't be afraid to ask questions. If there's something you don't understand or that the family hasn't covered, simply ask. It's much better to ask smart questions and be prepared than to guess in silence and be unprepared. Some nannies are afraid that they'll appear incapable if they ask questions. Actually, the opposite is true. Questions about key issues show that you know what is important and that you're committed to doing a great job. If you need to, take notes so you'll have something to refer back to.
Being a temp nanny can be a great way to earn some extra income or even provide a full time income over the long haul. With a little effort, you can make it a great success!
← 10 Rules to Give Your First-Time Babysitter | 5 Tips for Asking Your Nanny Boss for a Day Off →