What to Know When Relocating to Houston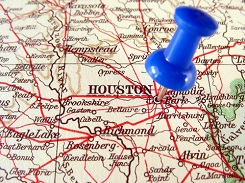 Houston, the country's fourth-largest city, is home to 2.2 million residents, many of whom are transplants. Drawn to what Travel & Leisure readers have deemed one of America's Favorite Cities, both new and well-established Houstonites enjoy a vibrant cultural scene and mild temperatures year-round that allow great outdoor opportunities for recreation and exploration of the many parks and scenic natural areas. If you're relocating to Houston, be sure to take advantage of the following city scenes.
Cuisine
From authentic taco trucks to the eateries of the 2013 James Beard Award-winning "Chefs of the Southwest", Hugo Ortega's Hugo's  and  Chris Shepherd's Underbelly, this big-city-with-a-small-town feel is a foodie's dream. Recently touted as having the most dynamic and diverse food and drink scene in the nation, the culinary greats have descended to Houston, taking their cuisine inspiration from the eclectic population. One local favorite that draws on the city's southern roots is barbecue – there's even a BBQ festival held in March.
Fortunately for those who like to explore local restaurants, Houston has also been named one of the top affordable places to visit in the country – meaning more bang for your buck to try out neighborhood favorites and an easy transition that won't break the bank while you wait for the moving truck 'kitchen' boxes to arrive.
Culture
This vibrant city is also a wonderland of variety. With residents speaking nearly 100 different languages, festivals celebrating the city's diversity abound. Houston Festa Italiana, Hindu holiday Holi, WorldFest, Houston's annual international film festival and the international Dance Salad Festival are just a few of the more popular events the city hosts.
Boasting "19 cultural powerhouses," the Museum District's offerings wow newcomers with a wealth of options within a few blocks stroll of each other. Four times a year, the district offers a block party helping newcomers experience the offerings. Of the 19 different museums, 11 are free every day and the other eight offer free times once a week or once a month.
Visitors' top pick, earning a recent 2013 Excellence Award and top spot of 153 local Houston attractions from Tripadvisor, is the Museum of Fine Arts. Baroque and Renaissance art, tribal art, a sculpture garden and a teaching wing where the local talent can be enjoyed are just a few of the highlights.
For the Kids
Houston isn't just a place for adults, though; there's plenty of fun for the kids as well. One visit to the Children's Museum of Houston will have them feeling like stars as they learn about urban living through interactive and hands-on exhibits like Power Play and Kidtropolis, which comes with a loaded ATM card filled with Kidtropolis dollars to go on a shopping spree, allows kids to take special art workshops or run city errands and deposit paychecks into a kids savings or checking account. 
The Houston Zoo and the Houston Museum of Natural Science's excellent paleontology exhibits, space-station model and six-story butterfly exhibit are also big hits with the little ones.
The city also created a wealth of outdoor spaces for picnics and playgrounds the whole family can enjoy. Hermann Park, which features outdoor pedalboats, is just a MetroRail away from the zoo, The Buddy Carruth Playground caters to kids of all ages and has waterspray details for hot days, the Miller Outdoor Theatre boasts free performances, and a catch-and-release fishing area and a miniature train ride for kids at McGovern Lake make for a fun afternoon on the water.
The Neighborhoods
Picking just the right part of Houston to settle in obviously is dependent on your personal priorities – fun nightlife, great schools, open spaces, easy downtown access – but one big determination to keep in mind is your daily commute, which can vary greatly with Houston traffic concerns.
Each neighborhood has its own flavor that the official visitors site for Houston can help you decipher, offering a description and handful of recommendations for each of the city's 18 main areas: Chinatown, Clear Lake/Bay Area Houston, Downtown, EaDo/East End, Galleria/Uptown, Galveston, Greenspoint/IAH, Houston Heights, Medical Center/Reliant Park, Memorial Park/Washington Corridor, Memorial/Energy Corridor, Midtown, Montrose, Museum District, River Oaks, Hobby Airport/Third-Ward, Upper Kirby/Greenway Plaza and West University/Rice Village.
← 100 of the Best Resources for Houston Parents | Keeping the Family Healthy During the Holidays: Tips for Enjoying Meals Without Going Overboard →