70 Places to Take the Kids in Houston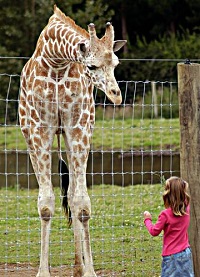 According to the 2010 census, Houston is the sixth largest city in the country and sprawls over a massive 8,778 square miles. To give a visual estimate, the city is roughly the same size as Massachusetts. The city of Houston was named after Sam Houston, who was both the first and third president of the republic of Texas and was instrumental in bringing Texas into the United States. Houston hosts a number of different amusement parks, museums and sporting venues, so you're sure to never run out of things to do or see during your time spent there. It's also a food lover's dream, and boasts over 11,000 restaurants that appeal to any and every culinary palate. These 70 blogs are packed with different kid-friendly destinations in Houston, ensuring you'll never be bored on a trip to the city.
Amusement Parks                                                               
No matter what the season, there is always something exciting going on at Houston's many amusement parks. The balmy climate allows for almost year round enjoyment of both indoor and outdoor venues, and you'll find attractions that appeal to everyone in the family. For more information on some of Houston's favorite amusement parks and entertainment locations, check out these 10 blog entries.
The Arts
Houston is known for its large theater district, and has eight performing arts groups in a 17-block area that is second only to New York City. The city also has its own resident company in the symphony, theater, opera and ballet. With such a large selection of performance arts you're sure to find some type of performance happening on any given night of the week. Houston also boasts art museums and galleries that have received critical acclaim, so if you and your family love the arts Houston is definitely the place to visit.
Museums
Houston is known for its wide array of museums that range from small-scale exhibits to massive collections. The Museum District hosts museums for everything from planes, trains and automobiles to offshore drilling rigs and more. Read through this list of 10 museums to see if any sound interesting to you and your family.
Public Parks
Houston is known for its consistently hot weather, and the city has a variety of kid-friendly parks that allow you to take advantage of the warmer climate. For hotter days, check out the parks that have splash pad areas. These 10 blogs cover some of the best public parks in Houston.
Educational Venues
There's no harm in learning something while on vacation, and you can combine fun and learning at these educational venues. The Houston Zoo hosts more than 1.8 million people each year and your kids will be able to watch and visit the 6,000 animals that call the Houston Zoo home. The NASA Space Center is an exciting attraction that the kids will love every bit as much as the adults. You'll even be able to sit in the same seats that kings and queens sat in to watch the first space launches and splash downs. These 10 blogs explore just a few of the many educational opportunities in Houston.
Run and Play
There are times when the kids just need to run around and get some energy out. These 10 venues are just the solution. Whether your kids like to rock climb, ride horses, ice skate or just jump around, you can find a place in Houston to do just that. If you like to shop, combine shopping with ice skating at the impressive stores in the Galleria. Want to visit somewhere peaceful for some fresh air? Check out the bird sanctuary. No matter what your tastes, you'll find something to do in the Houston area.
Sporting Venues
For the sports lover the Houston area is a mecca of huge stadiums and sports parks and hosts some of the nations' top sports names in the business. Whether you are looking for a pro match-up or just a minor league game, you should be able to find something in Houston. Many of these sports arenas also host top name celebrities when there aren't games going on, so you might even be able to take in a concert while you are in the Bayou City.
← 10 Reasons for Toddler Meltdowns and How to Prevent Them Before They Happen | 100 of the Best Resources for Houston Parents →