The Official Blog for Houston Nannies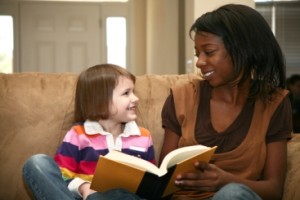 When your need for a babysitter is too sporadic to justify hiring a full-time nanny, it's not always easy to achieve consistency among your childcare providers. In neighborhoods with a low concentration of sitters and fierce competition among parents to secure the services of a few great babysitters each weekend, you may find that you're trying out new sitters more often than you're scheduling sessions with tried-and-true favorites. With each new sitter, you're forced to establish an entirely new groundwork of rules and guidelines, too. These are ten that you should be sure to discuss in depth before you leave your kids under the care of a new sitter for the first time.
Uncategorized
|
Leave a comment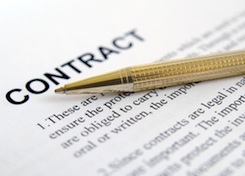 Hiring a summer nanny can be a great childcare option for parents with school aged children. There are lots of things that go into making a successful employment relationship including having a comprehensive contract. So what should be included in a summer nanny contract? Here's a rundown of things you want to make sure are in yours.
Start and end date. It's important that you know you have coverage during the whole summer. If your nanny is starting a week or two late because of a vacation or if she has to go back to college before your kids start school, knowing that when she's hired will give you plenty of time to find back up care.
Daily schedule and time off. Include your nanny's daily schedule and any planned changes to that schedule. If your child is going to spend two weeks in camp, your nanny may start late during that time. Or if your family's going on vacation, she may get that time off. Outlining the schedule in advance lets your nanny know exactly when she'll be working and when she'll have free time. That helps her plan out her summer trips and activities without interfering with work hours.
Pay and any benefits offered. Outline the regular and overtime hourly rate that your nanny will earn. Also include the details of any benefits you're offering like paid time off or a pool membership the nanny can use during her off time. If your nanny is a live-in, also include a short description of the nanny's living quarters and the food benefit offered.
Car use. There's a good bet that your nanny will need to drive your children during the summer months. She may need to drop them off or pick them up from camp or simply go to the pool for the afternoon. Before she starts, make sure you clarify which car the nanny will be using. If she's using her own car, detail how mileage will be handled. Also make sure that your nanny is carrying adequate car insurance for using her car for work purposes. If your children are still in car or booster seats, outline who will provide those and add a reminder that the nanny should use them each and every time.
Responsibilities and tasks. Your summer nanny isn't there to just provide child care. She can also help out with laundry, cooking, child related light housekeeping, errands and other things you might need. It's essential that you clearly outline your nanny's responsibilities in your nanny contract. Make sure that you detail what she's responsible for and any deadlines for getting things done. Remember she doesn't know how you like things so if you have any preferences, make sure to let her know what they are.
Household rules. It's important that your nanny knows what the kids are and aren't allowed to do. This is especially true with older kids who have more independence and choices about their day. Can your child play in the backyard by himself? Is he allowed to have friends over? Is he allowed to go visit friends by himself? Is there a limit on screen time? Your summer nanny wants to follow your household rules but is only able to do that when she has clear direction from you. This also avoids the "Mom lets me do it!" excuses that kids often throw out.
Safety issues. There are lots of safety hazards during summer time. It's always a good idea to review your expectations around these issues in your nanny contract. If you have a pool, include limitations around when it can be unlocked and clear instructions that your nanny is to never leave your child unattended. Don't forget to outline your rules for helmets when using bikes, skate boards, roller blades or scooters. Add any other issues that's you're particularly concerned about. These reminders can help keep your child safe and happy all summer long.
Household account. During the summer time, your nanny and kids may head out on field trips to the zoo, the water park or the science museum. Decide beforehand how you will handle these expenses with your nanny. Will you leave cash for her to use? Will you give her a credit card? Make sure you include any spending limits you have. It's also a good idea to ask your nanny to save the receipts from all expenses just to make sure the amount and reason for the expense is clear.
Your summer nanny contract is an important ingredient in having a successful relationship with your nanny. It doesn't take long to craft and makes a big difference.
Posted in
Uncategorized
|
Leave a comment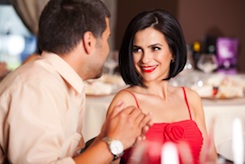 No matter how long you've been in a relationship with someone, it's important to continue to spend quality time together and to go out on dates together from time to time. While dinner and a movie is a date night staple, it doesn't allow much time for talking with one another and reconnecting. Instead, opt for date nights that allow you time to talk and laugh together. Plan dates that are worth getting excited about. For tons of ideas for inexpensive date night ideas, check out these 25 blog articles.
Going Cultural
Check the local newspaper to see what kinds of events are going on around town.  During the summer there may be free concerts in the park or inexpensive Shakespeare in the round performances. Or take a walk around the city to look at sculptures and different architectural styles.  Take a painting or pottery class. These five blog posts will help get the ball rolling for planning a cultural date night.
Grabbing a Bite
Save money by having a picnic on the beach and walking along the water.  No beach nearby? Choose an open field for the picnic instead.  Grab some cheese and a loaf of bread for a European style picnic. The options are endless! Check out these five blog entries for more ideas.
Date Night at Home
Plan a night at home where conversation and cuddling are the main focus of the evening. Leisurely cook something new together. Just relax and enjoy each other. For these and other tantalizing ideas, take a look at these five blog entries.
Getting Physical
There are many ways you can have an active date. Take a walk around a local pond or go on a hike for date night. Learn a new skill, like kayaking or archery while out on a date together. Go biking around town or check out a new bike trail. For these and other active date tips, take a look at the next five blog postings.
No Food Involved
There's no rule that says that a night out has to include food, and meals are often the most expensive part of a date.  Agree to eat before the date and then choose fun things that aren't related to eating. Get together with friends and play charades, or window shop in a nearby town.  Go "old school" and fly a kite or go roller skating.  These dates are perfect events to promote laughter and make some memories.  The most important thing is being together.
Uncategorized
|
Leave a comment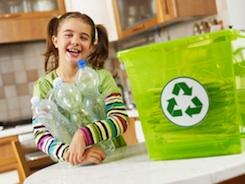 We all recognize the importance of conserving energy, recycling and taking good care of the planet we share. Some things are easy to do, while others are more challenging and impact the way we go through our day. One of the easiest and most fun things we can do is get kids involved in our efforts to care for our earth.
Model good behavior. Like everything else, modeling the behavior you want to see in your kids is the best way to get them on board. To do so, talk with your child about what you're doing to help the environment and why as you go through your day. When you drop empty cans into the recycling bin, let him know that they'll be used to make new products. When you turn off the water when brushing your teeth, remind him that clean water is a limited resource and it's the responsibility of each person to conserve it whenever possible. You might be surprised at the many environmentally friendly things you do throughout your day that you don't even realize you're doing.
Grow your own garden. The best way to help your child understand the connection between the earth and food is to focus on garden to table meals. Involve your child in researching what will grow best in your climate, in deciding what fruits and vegetables your family would enjoy, and of course planting and caring for the garden. The process of preparing the ground, planting the seeds, watering the plants and watching everything grow is so exciting to kids. They'll love the progression, and they'll especially love eating the end product. The lessons you teach kids about sustainability will stay with them for a lifetime. Plus, research shows that when kids are involved in growing the food they eat, they make healthier food choices.
Volunteer for earth projects. Enjoying a community project with your child is a great way to teach environmental lessons and show the importance of giving back at the same time. Many communities sponsor annual clean up days encouraging residents to join together to clean up local parks, roadways and other shared spaces. Kids enjoy helping out adults and seeing the real difference they're making. These clean up days also encourage kids to be aware of litter, so don't be surprised if your child is on litter patrol all the time after volunteering. Clean up days aren't the only opportunities to get involved. Your community may sponsor recycling programs, have 'plant a tree' days and come up with other ways that people in your community can come together and help the earth. Find something that both you and your child will enjoy doing and you'll create a great memory, and you may even start a new tradition.
Walk, bike or take the bus. Your kids are probably used to driving wherever they go. It's a habit for most of us to jump in the car whenever we need to get from point A to point B. However, carbon emissions are one of the leading causes of global warming, and small changes in our habits can result in big differences. Talk to your child about your family's carbon footprint and how important it is to reduce it whenever you can. Walk to the local park rather than drive to one 10 miles away. Ride your bike to baseball practice rather than pack up the car. Take the bus into the city to enjoy a day at the zoo rather than fight traffic and pay for parking. These steps can have a big impact on the environment and on your child's overall health and wellbeing. When it becomes a habit to use foot power to get to places whenever possible, your child will reap the benefits that come with regular exercise. These childhood habits are the ones most likely to stay with people as they grow into adulthood.
Go green with household products. With so many choices out there today, it's easier than ever to choose natural products over those filled with added chemicals. Teach your child how to make smart choices when it comes to everything from laundry soap to toothpaste. Let him know why it's important. Again, this has the added benefit of being good for your child on a very personal level. If your child suffers from asthma, environmental sensitivities or allergies, making these changes can have a big impact in how he feels day to day.
Read books about the issues that are important to you. Kids learn so much by reading together with you. Choose some stories that incorporate the environmental lessons that are especially important and share them with your child.
Teaching your child to be a good steward of the earth can be both fun and easy. Plus, it will help him develop healthy habits that can last a lifetime.
Posted in
Uncategorized
|
Leave a comment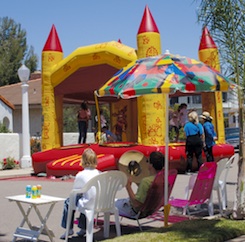 As a nanny, you probably spend the majority of your day surrounded by children. Unlike your counterparts in other industries, you won't spend time hovering around a water cooler or in board meetings. That doesn't mean, however, that networking is any less important to your professional development than it is to that of a busy executive. Networking with other nannies, both on a local level and internationally through the global village of the Internet, can be an incredibly informative exercise. These 10 lessons are just a few of the things you'll learn when you get out and talk to others within your industry.
Regional Salary Standards – When you're new to the area or just entering the private childcare job market, it can be difficult to determine the local standard when it comes to compensation packages and salary. Establishing a relationship with other nannies in your area can give you an idea of whether or not you're being paid fairly or asking for a reasonable amount.
The Scoop On Employers – Other nannies in your area can give you valuable advice when it comes to handling issues with your employers and navigating the often complicated social dynamic of running someone else's household. While you should never bash or badmouth your employers to other nannies, as long as you maintain a level of respect for your employers' privacy, there's no reason why you can't get advice for dealing with tricky situations from others that have been in your position.
The Importance of a Professional Support System – Working as a private childcare provider can be an intensely rewarding experience, but it can also be both physically and emotionally draining. Because you're isolated from your industry peers for the bulk of your hours on the clock, it's important to establish a networking and support system that allows you to interact with your equals.
Fun Activities and Outing Ideas – Even the most creative nanny will eventually run out of ideas for activities and outings. That's where networking with other childcare providers can come in handy. Sharing advice and bouncing ideas off of one another allows you to collectively come up with exciting and unique new ideas, things that you may not have considered on your own.
The Ins and Outs of Tax Compliance – Confusion regarding tax compliance isn't just restricted to rookie nannies. The IRS estimates that the majority of nannies and their employers are not tax compliant, which means that an established and experienced nanny may not have a clear idea of how tax compliance actually works. Networking with other nannies to discuss the implications of tax non-compliance and how to reverse the situation can make it much less difficult to understand.
How to Develop a Niche – In a tight job market, more and more nannies are looking for ways to set themselves apart from the competition. That's where niche nannies and those with an area of specialization come in, and that sector of the industry is growing. Networking presents nannies who would like to develop a niche but aren't sure how to proceed with a great opportunity to pick the brains of those who have successfully made the transition to specialization.
Potential Job Openings – If you're not working with a placement agency or combing the local classified ads, you may find yourself struggling to find prospective employers. An established network of childcare providers in your area can give you a heads-up regarding local openings.
Disciplinary Techniques and Child Management Advice – Developing your own disciplinary philosophies and ensuring that you keep them in line with those of your employer is an essential part of your success as a nanny, but that doesn't mean that you can't seek advice about managing a particularly difficult child or more effective disciplinary techniques.
Continuing Education Opportunities – Childcare is an ever-evolving industry, which means that you'll need to maintain a policy of continuing your education. Opportunities to further your experience and education level are valuable ones that you could miss out on if you're not linked to the local childcare industries.
Professional Development Techniques – Professional development is essential in any industry, and private childcare is no exception. When you're closely connected to the network of nannies both in your area and across the nation, you'll be able to stay abreast of developments within the industry as a whole.
Networking is an essential aspect of a nanny's professional development, but it's important that you keep things on a professional level. Though your local network of local childcare providers can be a support system, you should never badmouth an employer to your fellow nannies or disclose personal information. Not only is this important from an ethical standpoint, it can also cause very real problems should word of your distaste get back to those employers.
Posted in
Uncategorized
|
Leave a comment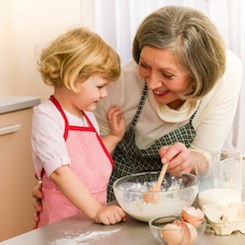 If you're lucky enough to have your mother live close to you, it may seem like the perfect solution to all your childcare problems. You know and love her, you don't have to worry about your kids when they're with her and no one is going to care for them better than Grandma. But you also know it's a tricky situation and there's the possibility that it could strain your personal relationship. So what's the smart choice? Here are some questions to ask yourself to help you decide.
Do you feel comfortable talking with your mom openly and honestly about concerns? There are always issues that pop up in any relationship. When your parent is also your caregiver, there will be even more issues that need attention. Are you comfortable taking these up with your mother? Can you express your ideas and concerns without triggering old issues? Are you able to listen to her ideas with an open mind? Good communication is essential in any nanny/parent relationship. It doesn't matter if the nanny is your mom or a stranger to your family.
Does your mother support your discipline method? The way parents handle discipline today is often very different than how parents handled it in the last generation. Do you and your mother share a discipline approach? If not, is she able to let go of her ideas and tactics and support yours? Remember, she isn't in the "Grandma" role as the caregiver. Grandma's job is to spoil your children. The caregiver's role demands rules, limits and dealing effectively with misbehaviors. If your mom has an approach that's vastly different than yours, it will come out as she deals with the normal discipline challenges that come with kids.
Is your mom physically able to care for your children? Let's face it, age matters here. There are plenty of grandmas that can easily keep up with their active and energetic grandchildren. However, others struggle with health issues that make providing childcare on a regular schedule difficult. Before your mom takes on the job, make sure you have an honest conversation about what will be needed from her and if she's physically able to tackle it. Remember, your mom may not feel she has any physical limitations, but it's important that you feel confident about that too.
Does your mother honestly want the job of caregiver? It's hard for moms to say no, even to grown children. Make sure that your mom truly wants to be the caregiver for your children and she doesn't just feel obligated to help you out of a tight spot. Feeling like she has to do it rather than wanting to do it isn't a good way to start out. Even if she's retired and doesn't have the obligation of a job, she may not want to commit to being your nanny. She may be enjoying her free time or may have other obligations like a volunteer position. Again, open communication is the key here. Present the idea as a real choice so she feels comfortable saying no. If she's not interested in taking over the position, she may be interested in covering some of the hours or filling in until you find a nanny.
Will you pay her for providing childcare? Money can quickly complicate any relationship, but this is an important question you must answer before moving forward. Will your mom be paid for her time? If so, how much? If not, is she alright with that? Do you think she'll be alright with it down the line? How does the money component change the dynamics of your personal relationship? Talk with your mom about how she feels about this tricky issue. Make sure you're both on the same page around the wage issue before she starts.
Are you comfortable in the employer role? Even if you're not paying your mom, you'll still have to take on many of the roles of the employer. Are you comfortable giving your mom instructions? You'll need to outline what you want your mother to do around the house, like laundry or getting dinner started. You'll have to set expectations of how she'll care for your child, down to the very least detail about the type of discipline and environment you want for your child. This can be a very uncomfortable position for many adult children to be in.
Hiring your mom as your nanny can be a great solution to your childcare needs, or it can be a disaster. Think about the pros and cons carefully before making a decision.
Posted in
Uncategorized
|
Leave a comment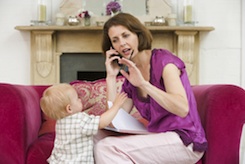 Long gone are the days where family is the exclusive babysitting resource for young families. Today's families live further apart and have their own obligations that prevent them from providing childcare to family members.
But just because family members aren't available to provide that care doesn't mean that moms no longer need it. Here are 10 reasons why many moms need to employ the services of a babysitter.
So you can take time for you! If you don't take care of yourself, you won't have the energy and strength needed to take care of the others who need you most. Whether it's so you can meet up with a friend at a coffee shop or browse the book aisles at your local book store, hire a sitter so you can set aside time for you.
To get stuff done. Organizing closets, painting the hallway and cleaning up the yard become much bigger projects with the kids underfoot.  Hire a sitter to come to your house and care for the kids so you can get stuff done.
So you can run errands in peace. Ever try to meet with the tax man with toddler in tow? Or try on a dress for the seamstress so she can adjust the hem? These errands are a whole lot easier to do sans kids, and the kids will surely appreciate not having to tag along.
Date night! Investing in your marriage is essential. Set aside time at least once per month to do something fun with your significant other. Whether it's heading to the park for a picnic or going out to your favorite restaurant where kids aren't really allowed, hire a sitter and take time to do something for just the two of you.
To have an extra set of hands. Would you love to have some extra help between the time the kids come home from school and go to bed? Or how about when you're heading on an outing, like to the zoo?  Hiring a sitter can often make your time together more productive and enjoyable too.
So you can attend social functions. Weddings, bar mitzvahs, baby showers, retirement parties, anniversary parties, birthday parties. The list of social functions you're likely to get invited to is endless.  Don't say no because you have no one to care for the kids. Instead, hire a sitter to meet your childcare needs.
Girl's night out. All moms appreciate getting out with the girls, but when dad ends up working late or there is a scheduling conflict and you're left without care, it may seem like your only choice is to cancel. But you don't have to. Hire a sitter to care for the kids while you spend a few much needed hours with the girls. 
To catch up on work. When you've fallen behind it can feel like you'll never catch up. Set aside a block of time to catch up on work in the evening or on the weekend and hire a sitter to care for the kids. They'll have fun and you'll get your work done.
So you can get to the salon. Sometimes there's never a convenient time to get your hair cut and colored. Trying to fit in hair appointments can be a real challenge. Hire a sitter to ensure you're not left rescheduling at the last minute.
So you can attend school meetings. Some school events like parent teacher conferences don't allow children. This forces many parents to secure childcare so that they can attend. Hiring a sitter allows both parents to attend and ensures the children have fun while they're gone. 
And while some high school students and neighborhood girls are still offering babysitting services, with school activities and homework, most parents are forced to contract for care with an older, qualified professional. These professional babysitters can be found by word-of-mouth, by using an online nanny and babysitting recruiting site or through a reputable local nanny placement agency.
Posted in
Uncategorized
|
Leave a comment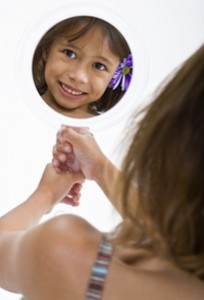 It's no secret that a healthy sense of self-esteem is an essential tool for navigating the adult world, but figuring out how to instill confidence in a child isn't always easy. These ten secrets to building your child's self-esteem are surprisingly simple, and can make a world of difference in the way she sees herself and handles everyday situations.
Be Generous With Your Affection – In order to feel secure and confident, your child needs to know that she has your unconditional love and support. By building that all-important support system through affirmations of your affection and explaining to her that your love is not contingent upon her success or subject to change as a result of failure, she'll have the confidence she needs to tackle new challenges without worrying that you'll be disappointed in her if things don't work out the way she planned.
Praise Efforts, Not Accomplishments – When you lavish effusive praise on your child for her accomplishments but ignore the effort she expends to get there, you're sending the message that the end result is the only thing that matters. Making the effort to show her how proud you are of her for trying her best places the emphasis where it needs to be: on her efforts.
Pay Attention – It seems simple, but taking the time to listen to your child when she speaks and to absorb the details of her day lets her know that you're truly invested in her life and that you care what she's up to. Knowing that you value her opinion and are there to support her makes it easier for your child to approach new situations with confidence.
Support Healthy Risks – Every instinct a parent has goes against allowing a child to do something that you're sure will end in failure, but it's important that you allow your child to make certain decisions on her own and support healthy risks. Knowing that you're there to help her get back up and try again gives your child the strong self-esteem she'll need to continue taking those risks, which are essential parts of growing up.
Instill a Respect for Limits and Boundaries – Part of a strong sense of self-esteem is a feeling of security and support, which comes from having a clear understanding of the boundaries and limits within which she's expected to operate. When your child knows what is and is not expected of her, she's more able to confidently navigate acceptable situations, rather than approach them with trepidation because she's not sure if they're within the boundaries you've set for her.
Let Her Make Mistakes – Failure may not seem like an effective tool for helping your child to build self-esteem, but it's actually quite important for her to make mistakes that she can learn from in order to build a pool of experiences she can rely on for future decisions. Mistakes breed wisdom, and that knowledge allows your child to be confident when she's faced with a similar situation in the future.
Avoid Comparisons – Even if you're trying to build your child up by comparing her to another, it's never a good idea to draw comparisons between siblings or those within her peer group. Your child needs to know that she's accepted and loved for who she is, not because she's out-performing another child or in spite of the fact that she's not as "good" as another.
Set Goals Together – When a goal is set and subsequently reached, there's a sense of accomplishment that does more for a person's self-esteem than any kind words or flattery ever could. The same holds true for children. Helping your child set new goals and supporting her as she reaches them is a powerful confidence booster.
Validate Her Feelings – Failure, mistakes and conflicts are integral experiences when it comes to building up knowledge and learning lessons, but that doesn't mean that they aren't hurtful. Telling your child that she shouldn't be upset because she "only lost a game" or "had a tiny fight with a friend" minimizes her feelings, making her wonder if they're appropriate. Validating her feelings by letting her know that you're aware of how she feels and that it's okay to feel that way as long as she learns how to handle similar situations in the future can turn those negative situations into a learning experience.
Model Confident Behavior – Your child learns more about how to interact with the world from watching and emulating the adults she loves and trusts than anything else. If you're plagued by low self-esteem and aren't confident in your ability to manage things, your child will mimic that behavior. In order to boost your child's self-esteem, make sure that you're working on your own.
Remember that your child needs to feel the sting of failure from time to time, and will need to experience some conflict in order to gain the important coping and conflict resolution skills she'll use as an adult. Though it's tempting to swoop in to save the day every time your child faces some hardship, it's far better to offer your support as she works out the best ways of navigating those situations on her own. When she realizes that she's capable of managing her own problems, it will create a self-esteem boost far more powerful than any you can give her with affirmations and encouragement.
Posted in
Uncategorized
|
Leave a comment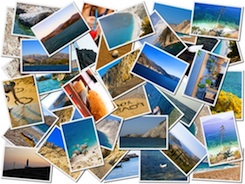 Family vacations provide a much-needed change of scenery for parents and kids alike. The new surroundings stimulate the senses, and if you're fortunate to choose the right spot, they can sooth the nerves as well. Even so, there will most likely be things that you would like to do without the kids tagging along. There may also be things that the kids would like to do but you would rather avoid at all costs. You can enjoy your time alone or with your spouse when you find a qualified babysitter while on vacation.
Don't Miss the Forest for the Trees
If you have a nanny, consider offering extra pay for accompanying the family on vacation. In some instances this is part of the contract but in other situations, it may not apply. If vacations aren't covered by your existing work agreement, ask if the nanny is willing to come with you to help with the kids. It's entirely possible to miss the childcare forest for the trees as you search frantically for vacation childcare while your nanny's right in front of you.
Network With Friends and Family
If your vacation spot is near friends or relatives, enlist their help in finding a high-quality local babysitter. You'll still want to make sure that the sitter is qualified by checking references and inquiring about her CPR and first aid certification, though. Just because someone is recommended by people you know doesn't mean that she's been checked to your specifications, so make sure that you don't neglect simple inquiries. Unless you personally know the babysitter, this is still a stranger to you and your children so you need to get and check references.
Ask Hotel Services and Your Concierge for a Recommendation
Due to liability issues, some resorts and hotels no longer offer childcare services. However, there are some that may offer them or your concierge might maintain a list for just such an occasion. It never hurts to ask. As with other childcare services, check references and reviews and scope out the environment before you leave your child there. Make sure it is a safe and welcoming place. Some places offer evening babysitting. Call ahead to ask questions, determine availability and ask to speak directly to a childcare worker to get a feel for what they have to offer. If your hotel does not offer any services on-site, they may still be able to help by providing you with a list of contacts that other parents have used in the past. Inquire as to whether the list contains highly reputable sitters or services, and if there are references available. There may be some recommendations that previous patrons have made concerning outstanding sitters.
Enlist the Help of a Nanny Agency
There are many nanny agencies that also provide qualified babysitters or temporary services to parents visiting their area of service. Contact agencies in your vacation area early, preferably before you actually leave for your trip, to make the necessary arrangements. Be sure to contact a reputable agency by looking for one that has professional affiliations such as International Nanny Association, or the Association of Premier Nanny Agencies. Check the Better Business Bureau to see if there are any complaints against the agency, and make sure the agency does extensive background checks on their referrals.
Once you have adequately screened the agency and are satisfied with the results, then you can start screening the babysitter referrals. Even though you'll only be using their services on a temporary basis, you need to make sure that you and your children are comfortable with the person and that a level of trust is created right away. If there is any doubt in your mind whether the person is right for your kids, go on to the next candidate.
Contact the Local Girl Scout Chapters
Many Girl Scouts have gone through training to become qualified babysitters, including American Red Cross training as well as other workshops in childcare. Girl Scouts will come prepared with plenty of fun activities for the kids and local Girl Scouts will know something about the area and may be able to direct you to more kid friendly attractions. You will probably need to be responsible for transporting the girl to and from your destination, and you will want to meet her parents to give them any emergency information. Find out what the going rate for babysitting is in that area, and pay accordingly. Keep in mind that different places will vary on their rates and it's always better to pay more than less. Always remember to check references. It also wouldn't hurt for you to have some references of your own to show to parents just in case they ask.
Look for Drop-In Centers
Many vacation spots will have drop-in centers for you to use for temporary childcare services. Call ahead and find out all you can about the center. Check their website if they have one, and be sure to read any reviews available. If you are satisfied that a particular center can meet your needs, ask if you can register online or by fax so registration can be completed before your trip. Once you arrive at your vacation spot, as a precaution, stop by the care center unannounced to observe how things are handled on a day-to-day basis. Make sure that you are comfortable with the surroundings and that the staff is knowledgeable and friendly.
Finding childcare when you're away from home doesn't have to be a nightmare, especially if you tackle the situation before you trip is planned. With a bit of advance planning and foresight, your entire family can enjoy the vacation that's so urgently needed.
Posted in
Uncategorized
|
Leave a comment
Newer posts →